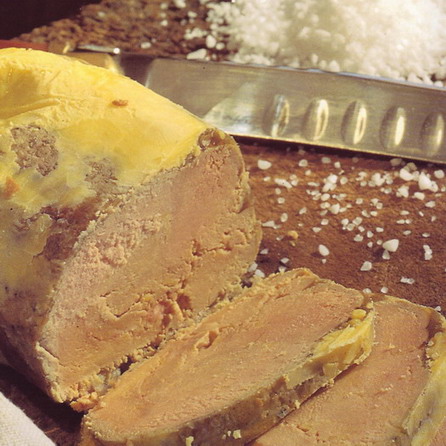 Today, some friends and I tagged along on an optional Dickinson outing to an annual "gras" market outside Toulouse. The entire market is centered around duck in its many tasty forms. Each one of us was required to bring food to sell at a Dickinson "American specialties" stand. A friend and I made walnut brownies, but others brought pumpkin pie, muffins, cookies, cupcakes, and chocolate-covered pretzels. We had a lot of fun being integrated into the whole market experience - the locals were curious about our program, just as we wanted to learn more about
fois gras.
We roamed the stands, stopping frequently for free samples. Our favorite stand was probably the one with culinary students making free
crêpes
cooked in caramelized orange juice
flambée
with Grand Marnier, bananas, and pineapples
.
They managed to cook with flames, sugar, and fruit
in suits
, which makes them the James Bonds of culinary delight. Lunch was included in this excursion - we were told "cafeteria food." Except no - apparently they meant cooked duck, soup,
fromage de chèvre, fois gras
, duck
paté
, and fantastic bread. Soon after lunch, we packed up to leave - we had managed to sell most of our snacks, and eat the rest. Our program directors even let us keep the profits. Overall, a very exciting and fulfilling day.